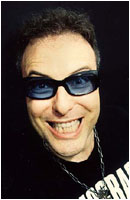 Best known as the former lead singer of Dead Kennedys, Jello Biafra has become an icon for free speech and political cynicism in America due to his battles with the legal system, witty & comical lyrics, numerous spoken word albums, and yearly tours around the country where he lends his knowledge, insight, and analysis on the rapid political and social decline of our civilization to thousands who are inspired to do the same and help make a difference.

As frontman for Dead Kennedys, Biafra wrote all the lyrics giving the band its verbal fuel for the journey to punk rock legendary status. Much like Bad Religion, his words ring ever-so-true to this day. Bleed For Me, from 1982's Plastic Surgery Disasters, sheds stark light on state-sponsored torture given to people accused of "hangin' 'round with an enemy of the state", US labor camps built on foreign soil from funds meant for schools, and, most shockingly-- killing millions to beef up profits, which in turn get funnelled into intelligence and security agencies. Sound familiar? And that's just one song! Tracks like Government Flu [gov't viruses dispersed amongst cultures for population control], Kepone Factory [industrial pollution in residential areas], Hyperactive Child [the drugging and brainwashing of children], When Ya Get Drafted [they say this one's ready to pass, so watch out!], I Am The Owl [bugging dissenters and "accidenting" them], Kill The Poor [self-explanatory], and most memorably California Uber Alles/We've Got a Bigger Problem Now and Holiday Inn Cambodia [fully loaded political commentary on 1980's US policy and political heads]. There are so many that you're just going to have to go out and get all of these old albums and hear them for yourself. Biafra's lyrics coupled with the West Coast grungy surfer twang of East Bay Ray's Rickenbacher... you just can't go wrong.

Free Speech on Trial: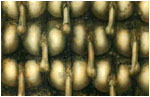 In 1985, Biafra's home and his offices at his label, Alternative Tentacles, were raided by the FBI, and within a year he would find himself standing trial for "distribution of harmful matter to a minor". Frankenchrist, the DK's 3rd album, came with a poster of H.R. Giger's Landscape XX (Penis Landscape), which consisted of penises going into "rotten vaginal cavities". The album was allegedly bought by a 10-year old boy whose mother turned it over to the Parents Music Resource Center [PMRC], which, at the time, was headed by Al Gore's wife, Tipper, who began the campaign against the punk rock label and its head honcho. After a long and drawn out court battle, Biafra and Alternative Tentacles were acquitted of all charges due to a hung jury. Both Biafra and Tipper appeared some time later on Oprah, where Jello barely got to squeeze in two sentences in his defense through the whole show.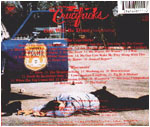 In the late '90s Biafra would find himself in more trouble with the court system. Alternative Tentacles' 1992 release of The Crucifucks "Our Will Be Done", of which its back cover featured a photo of slain Philadephia police officer James Whalen. The photo had originally been used in a 1986 poster that the local police union was using to raise awareness during a contract dispute with the city. In 1996, the Philadelphia chapter of the Fraternal Order of Police and office Whalen were awarded a $2.2million settlement by a federal judge in their suit against The Crucifucks, Alternative Tentacles Records, and Biafra. The settlement was handed down in April of '97 because of the defendants' failure to appear in court, which stemmed from them not being served their proper notices for the appearance. Later that year, in December, the decision was struck down by another federal judge and the case was dismissed.

Alternative Tentacles continues to play host to releases from such artists as The Butthole Surfers, DOA, Wesley Willis, The Crucifucks, and even put out Greg Palast's Weapon of Mass Instruction - Live and Noam Chomsky's The Emerging Framework of World Power. Biafra's current musical project is side-by-side with The Melvins--having already put out two full length albums: Never Breathe What You Can't See and Sieg Howdy!


- f -


From Vh1.com: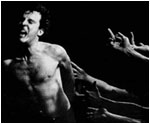 Following the demise of the Dead Kennedys in the wake of the financial and emotional disaster that was their 1986 obscenity trial, vocalist and free-speech icon Jello Biafra launched a solo career, devoting some of his releases to spoken-word observations on American culture and politics and others to collaborative efforts with several bands. Biafra was born Eric Boucher in Boulder, Colorado, and began collecting odd records in high school. He moved to San Francisco and took his stage name from the war-ravaged African nation then called Biafra, appending the name of the popular dessert substance because he liked the way the two sounded together. Biafra formed the Dead Kennedys in 1978, and the band quickly gained a following thanks to their hyperdriven sonic assault and Biafra's nasal, declamatory (and often quite funny) political rantings. In 1979, a year before the Kennedys' influential debut Fresh Fruit for Rotting Vegetables was released, Biafra ran for mayor of San Francisco on a bet; his platform included holding auctions for high-ranking city government positions, setting up a board of bribery to handle liquor licenses and building codes, banning automobiles in the city limits, forcing businessmen to dress in clown suits, and allowing vagrants legal access to empty buildings. (Voters apparently found the satire compelling enough to place Biafra fourth out of ten candidates.)



Fresh Fruit for Rotting Vegetables suffered distribution problems owing to the Dead Kennedys' name and subject matter, so Biafra formed his own Alternative Tentacles label in 1981 to counter the majors' reluctance to disseminate his material. When the Kennedys included a poster of H.R. Giger's painting Landscape #20 (Penis Landscape), which depicted rows of penises engaged in anal intercourse, in their 1985 album Frankenchrist, the band and label were prosecuted under California obscenity statutes for distributing "harmful matter to minors." Biafra's apartment was ransacked by police, and a trial was undertaken in April 1986 that lasted over a year; a hung jury resulted in the charges being dropped.

The already politically conscious Biafra emerged as an articulate champion of free speech, and with the Kennedys' breakup, he hit the college lecture circuit with a vengeance, expounding his views on American culture with a righteous anger and acerbic wit. His first solo recordings were spoken-word affairs drawing on his lecture material -- No More Cocoons appeared in 1987, with High Priest of Harmful Matter -- Tales From the Trial, a detailed, humorous account of the obscenity trial, following in 1989. Other spoken-word releases would pop up from time to time, including 1991's I Blow Minds for a Living and 1994's three-CD set Beyond the Valley of the Gift Police.

Biafra also offered frequent collaborations with other artists: the Lard project with Ministry's Al Jourgensen and Paul Barker (1988's Power of Lard EP, 1990's The Last Temptation of Reid); the D.O.A.-backed Last Scream of the Missing Neighbors EP (1990); a 1991 outing with NoMeansNo entitled The Sky Is Falling & I Want My Mommy; a side project with members of Steel Pole Bath Tub and King Snake Roost called Tumor Circus, which released a self-titled album in 1991; an EP with Plainfield; and several collaborations with Mojo Nixon, including an EP centered around the country parody "Will the Fetus Be Aborted" and the 1994 album Prairie Home Invasion.

In one of the most bizarre and least likely mishaps punk fans could imagine, Biafra was attacked at a San Francisco club in 1994 by skinheads who had somehow gotten the idea that he was a sell-out; he was hospitalized for a time with two broken legs. After returning to Lard in 1997 for a new album, Pure Chewing Satisfaction, he issued the solo If Evolution Is Outlawed, Only Outlaws Will Evolve a year later and Become the Media in fall 2000.

~ Steve Huey, All Music Guide
© 2005 All Media Guide, LLC

---------------------------------------------------------------------------------------------------------------------------------------------------------------------------
For more on Jello Biafra and a schedule of his upcoming spoken word appearances, please visit:
http://www.alternativetentacles.com