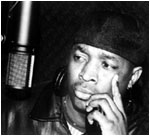 Chuck D
(Carlton Ridenhour) is best known for his pioneering role as frontman of the legendary anti-establishment hip hop brigade known as Public Enemy. His controversial lyrics and unwavering stances on pertinent issues that affect the Black population as well as all groups persecuted by the "powers that be" have been admired, copied and cloned since P.E.'s debut Yo! Bum Rush The Show on Def Jam Records in 1987. Through over 5 studio albums and nearly 20 years of production and living the rap game, the intellectual ammunition stored up in this man's cranium has taken out millions across the planet leaving them dead in their tracks, and instilling more awareness of the ongoing struggle in the black community, and in many cases, causing them to step back and have a look at themselves, and question some of their own choices they've made throughout life.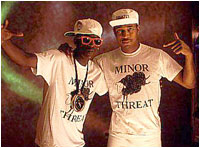 With the help of sidekick and Surreal Life star Flava Flav, Chuck D has brought Public Enemy into legendary status and legitimized a whole new form of conscious, intelligent hip hop glazed with revolutionary angst which had burst onto the scene way ahead of its time. Paving the way for the slew of rap/rock collaborations that were to take place in the early '90s, P.E. re-cut Bring The Noise with metal legends Anthrax spawning a grungy rendition of the Takes a Nation of Millions hit, and a nationwide tour featuring the two bands with Primus as the opening act. This melding of musical genres would be the first time in history that skinheads in flight jackets pumped their fists to hip hop in public [right after booing Young Black Teenagers off stage, of course]. The lineup had inadvertently placed punk rockers, skinheads, skaters, gangstas and gang bangers, hip hoppers, metalheads and headbangers in 20,000-40,000 capacity venues, and much to everyone's surprise, nothing really went wrong, many bridges had been built, and boundaries were broken.

But as the times have changed and crucial events have unfolded, Chuck continues to fight the power by lending his vocalized view to students, activists and concerned citizens across the nation at colleges and other venues where thousands gather to rap with him about world and urban issues that are plaguing our communities and affecting the rest of civilization. Anti-war rallies, benefit concerts and other public appearances have become a casual setting for Chuck D, and most recently the AM radio waves as co-host of "On The Real" airing Sunday nights at 9pm [EST] on Air America Radio.

- f -

---------------------------------------------------------------------------------------------------------------------------------------------------------------------------

From Vh1.com: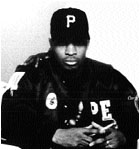 As the founder of Public Enemy, Chuck D. is one of the most colossal figures in the history of hip-hop, not to mention its most respected intellectual. He redefined hip-hop as music with a message, and his strident radicalism ushered in an era when rap was closely scrutinized for its content; although rap's primary concerns have changed over the years, its status as America's most controversial art form has only gotten stronger since Public Enemy hit the scene. Chuck D. was born Carlton Douglas Ridenhour in Roosevelt, Long Island, on August 1, 1960. His parents were both political activists, and he was a highly intelligent student, turning down an architecture scholarship to study graphic design at Long Island's Adelphi University. While in school, he put his talents to use making promotional flyers for hip-hop events, and went on to co-host a hip-hop mix show on the campus radio station with two future Public Enemy cohorts, Bill Stephney and Hank Shocklee. Under the name Chuckie D, he rapped on Shocklee's demo recording, "Public Enemy No. 1," which caught the interest of Rick Rubin at Def Jam. In response, the now simply named Chuck D. assembled Public Enemy, a group designed to support the force of his rhetoric with noisy, nearly avant-garde soundscapes.



Public Enemy debuted in 1987 with Yo! Bum Rush the Show, a dry run for one of the greatest three-album spans in hip-hop history. Released in 1988, It Takes a Nation of Millions to Hold Us Back was acclaimed by many critics as the greatest hip-hop album of all time, and was instrumental in breaking rap music to white, alternative rock audiences. Fear of a Black Planet (1990) and its follow-up, Apocalypse '91...The Enemy Strikes Black, consolidated Public Enemy's position as the most important rap group of its time. There were storms of controversy along the way, most notably Chuck D.'s endorsement of the polarizing Muslim minister Louis Farrakhan, and group member Professor Griff's highly publicized anti-Semitic slurs. But on the whole, Public Enemy's groundbreaking body of work established Chuck D. as one of the most intelligent, articulate spokesmen for the black community. He became an in-demand speaker on the college lecture circuit (much like his peer KRS-One), and was frequently invited to provide commentary on TV news programs.



Muse Sick-N-Hour Mess Age (1994) found the group's status slipping, and the following year Chuck put PE on hiatus while planning its next move. In the meantime, he released his first solo album, The Autobiography of Mistachuck, in 1996, and published the book version of his autobiography the following year. He reconvened Public Enemy for the soundtrack to Spike Lee's 1998 film, He Got Game, and the following year left Def Jam over the label's refusal to allow him to distribute Public Enemy music via free Internet downloads. Signing with the web-based Atomic Pop label, Chuck became an outspoken advocate of MP3 technology, and made 1999's There's a Poison Goin' On... the first full-length album by a major artist to be made available over the Internet (it was later released on CD as well). He continued his lecturing into the new millennium and made regular appearances on the Fox News Channel as a commentator. Even if Public Enemy never recaptures the popularity or vitality of its glory years, Chuck D.'s legacy is secure enough to keep him a respected voice on the American cultural landscape.

~ Steve Huey, All Music Guide

----------------------------------------------------------------------------------------------------------------------------------------------------------------------------