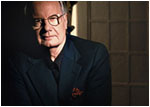 from the Syracuse University website:
http://provost.syr.edu/lectures/moyers.asp

When PBS and Bill Moyers launched NOW with Bill Moyers in January 2002, it was to report stories that weren't being covered on any other public affairs broadcast. As the Columbus Dispatch wrote: "Moyers pursues various threads of stories and shows they're not black-and-white but shades of gray." During its first season with Moyers? leadership, NOW has pursued the truth behind the headlines. "We are continuing to take a thoughtful look at the events shaping our world," says Moyers.

During his 25 years in broadcasting, Bill Moyers received every major broadcast journalism award, including two prestigious DuPont Columbia Gold Batons, and 30 Emmy Awards. A survey of television critics by Television Quarterly placed Moyers among the ten journalists who have had the most significant influence on television news. He was elected to the television Hall of Fame in 1995 and a year later received the Charles Frankel Prize (now the National Humanities Medal).

In 1986, Moyers formed Public Affairs Television, Inc., with his wife and partner, Judith. This independent production company has produced more than 300 hours of programming. In March 2003, PBS aired the four-and-a-half hour Moyers documentary Becoming American: The Chinese Experience. In addition to the weekly PBS series NOW with Bill Moyers, Public Affairs Television has produced such series as Becoming American: The Chinese Experience, Bill Moyers Reports: Trading Democracy; America?s First River: Bill Moyers on the Hudson; Bill Moyers Reports: Earth on Edge; Trade Secrets: A Moyers Report; On Our Own Terms: Moyers on Dying; Surviving the Good Times: A Moyers Report; Free Speech for Sale; Facing the Truth; Moyers on Addiction: Close to Home; Genesis: A Living Conversation; Healing and the Mind; and Joseph Campbell and the Power of Myth.

Moyers has served as executive editor of Bill Moyers' Journal on public television, senior news analyst for the CBS Evening News, and chief correspondent for CBS Reports. Two of his public television series, Creativity (1982) and A Walk Through the 20th Century (1984) were named the outstanding information series by the Academy of Arts and Sciences.

Five books by Moyers based on his television series have become bestsellers: Listening to America, Joseph Campbell and the Power of Myth, A World of Ideas I and II, and Healing and the Mind. Before entering broadcasting, Moyers served as deputy director of the Peace Corps in the Kennedy Administration and was special assistant to President Lyndon B. Johnson from 1963-1967, including two years as White House press secretary. He left the White House in January 1967 to become the publisher of Newsday. For 12 years Moyers was a Trustee of the Rockefeller Foundation and now serves as president of The Florence and John Schumann Foundation.

---------------------------------------------------------------------------------------------------------------------------------------------------------------------------


Bill Moyers has since written Moyers on America : A Journalist and His Times, published by New Press in May 2004. Later that year, in September, Moyers retired from television and left us with this statement:

"I'm going out telling the story that I think is the biggest story of our time: how the right-wing media has become a partisan propaganda arm of the Republican National Committee. We have an ideological press that's interested in the election of Republicans, and a mainstream press that's interested in the bottom line. Therefore, we don't have a vigilant, independent press whose interest is the American people."