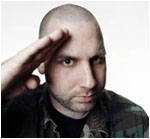 The words of underground lyricist & poet Sage Francis have brought many to tears by the righteousness and harmonic honesty that is spoken like none other can. Tracks like Hey Bobby, Makeshift Patriot, and Slow Down Gandhi are some of the most well-written patriotic tunes of our times, but at the same time are the most underrated. Voiced with pure emotion and genuine devotion, Sage's beats, raps, and wordplay remain unmatched in the world of rhymesaying.

Although one doesn't think of a thirty-something caucasian rapper from Rhode Island as being one of the most intelligent contributors to hip hop today, the respect Sage has earned as a nationally ranked Slam! poet and Scribble Jam Freestyle Battle champ speaks for itself. He's got a little over a half dozen ingenious albums to his credit, and can be found featured side by side with tons of other likeminded artists, including legendary political punks Bad Religion on their song Let Them Eat War. In 2004, he appeared on-stage at Rock the Bells in San Bernardino, CA, the last performance of all 9 original Wu-Tang Clan members.



In 2005, Sage, along with poet Bernard Dolan, helped create knowmore.org, a "web-based community dedicated to chronicling and resisting corporate attacks on democracy, worker's and human rights, fair trade, business ethics and the environment." The site features "a vast database of easily searchable corporate and political info designed to aid responsible citizens, progressive thinkers and activists." Definitely check out this site and visit it regularly. There's so much information that'll blow your mind about specific corporations that your buying habits will change very quickly.

- f -


From Epitaph Records: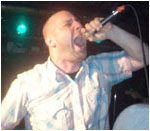 Sage Francis began rapping when he was 8 years old. Hidden in a closet in his parents' Rhode Island home, he'd rhyme into a cheap tape recorder for hours on end. By age 12 he was sneaking out to battle other Providence emcees, entering talent contests and learning the finer points of showmanship, if not the sizeable advantage that, well, size offers where confrontation is concerned. The kid had a calling, and he wasn't going to let anything---shitty equipment, stature, homework---slow his roll. Today, at 27, the man has a reputation. Several, actually. You might know him simply as a battle emcee or a spoken word poet. Heart-draining confessionalist or Old School revivalist. Political dissident, DIY business expert, friend, asshole, or one-time ice cream server. Hell, you might even know him as hip-hop's doom. Or the art form's redemption, for that matter. Sage Francis is many things to many people---and probably even more to himself---but if there's anything he isn't, it's quiet.

We may never know just how the smallest state in the Union ended up home to one of the loudest voices of our time, but it probably had something to do with Public Enemy. Paul Francis was a relentless hip-hop fan raised in a loving-but-strict household. His family knew he liked rap, but if they knew how much, his mom probably would have never taken him to that first concert. It was 1988, the Run's House tour. Little Sage went to see Run DMC, but it was Chuck D that blew his ears wide. Sure he

'd rapped before, but now it was serious. Knowing that a dip in grades might result in a raid on his tape collection, Sage kept his head in the books and his true love a secret. But record stores were his libraries, and rhyme circles his study groups, so once Sage left home for college, the learning curve bent exponentially.

In 1996, Sage recorded his first official demo tape. Within a year and a half, he'd have a live band (Art Official Intelligence), his own radio show on Rhode Island's leading independent station, WRIU ("True School Session," every Tuesday from 3-6pm), and a recording project with his producer friend Joe Beats. The duo released a 12" under the name Non-Prophets in 1999 on a friend's label, Emerge Records, and managed to move a few thousand copies with virtually no promotion. That was, of course, the same year Sage won the Superbowl MC Battle in Boston, and only a few months before he'd head to Cincinnati to claim the 2000 Scribble Jam freestyle title, the highest honor in the hip-hop underground. He spent some time spinning beats at CBGBs for poetry slam events, and had his own spoken word featured in commercials on ABC, ESPN, and ESPN2 for the 2000 Winter X-Games (which paid his rent for a year). And somewhere in there he managed to pick up two degrees---an AA in communications from Massachusetts' Dean College, and a BA in journalism from the University of Rhode Island.



With the cult following he'd amassed locally and through the Internet, Sage was able to support himself by bootlegging his own material and touring nationally. He'd press CD compilations of his radio spots, live performances and song cameos (the Sick of Waiting... series) and take them out on the road, where he boasted the ability to draw more than 1000 kids out of any metropolitan area in the country. The numbers could have been exaggerated a bit (Sage was his own tour manager, after all), but after October 11, 2001, he had tapped into something far greater. Exactly one month after the attacks of 9/11, Sage wrote, recorded and released (in MP3 form) "Makeshift Patriot." The song took the American media to task for its partisanship and hasty judgment, but it was written with the heart of someone who witnessed the country's loss firsthand (worked into the track is a field recording of Sage's trip to Ground Zero five days later). "Makeshift Patriot" spread quickly, and a new Sage Francis emerged. The merciless battle rapper and renowned spoken word poet was now the most outspoken artist in a sea of tight-lipped, scared-shitless citizens. And still the man hadn't released a proper album.



Enter Personal Journals (released in 2002 on Anticon). At a time when battle rap was having its heyday, Sage turned his pen on himself, deconstructing his ego, his family life, and his relationships over 18 ghostly tracks. Braggadocio was traded in for vulnerability, dick jokes for confessional verse. Unknowing purists criticized Sage for eschewing hip-hop's rich (if not a bit incestuous) history; the newly exposed press applauded his honesty, while backhandedly dubbing him the father of something called emo-hip-hop. But Sage had already planned his next move. In 2003, he released the Non-Prophets full-length, Hope, on Lex Records. The album was an extended homage to the music Sage grew up with, overflowing with Old School allusion and wordplay. Critics only caught half of the references, but it was enough to put any naysaying to rest.



Which pretty much brings us up to date. In 2004, Sage became Epitaph Records' first hip-hop signing. In February, he will deliver his most complete album yet, A Healthy Distrust. It's Sage at his most emphatic and aggressive, heavy music with pointed poetry and a hold-nothing-sacred slant. On album opener "The Buzz Kill," our hero reintroduces himself over Reanimator's pulse-pounding soundscape before declaring "I freedom kiss the French for their political dissent" and firing shots at the Statue of Liberty: "Your huddled masses yearning to breathe free? Take them back/Your homeless tempest-tost to me? Take them back/The U-S-A has cracked." A song later he's trading verse for chorus with indie folk icon Will Oldham. By the record's finish, Sage has taken on God and Guns, Bush and War, Man and Woman, Sex and Drugs, each with a new vocal delivery. A Healthy Distrus

t peaks---just before the final track---with "Slow Down Ghandi," the album's first single and a poignant call to arms for anyone willing to buck the status quo.

While there are echoes of both Personal Journals and Hope (intimacy and grace, posturing and force), A Healthy Distrust is more honest and uncompromising than either. Whatever you think you know about Sage Francis, rest assured that he'll prove you otherwise. There's not a soapbox that could hold anything this heavy. Just how he does it---this straight-edged vegetarian from the smallest state in the Union---we may never know, but the fun is in trying to figure out.

----------------------------------------------------------------------------------------------------------------------------------------------------------------------------
For more on Sage Francis, you can visit:
http://www.sagefrancis.net
http://www.epitaph.com